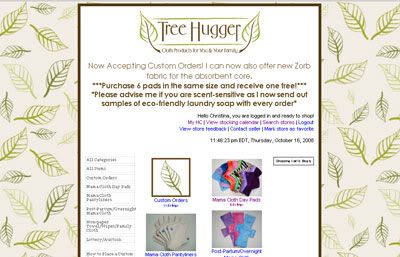 First Name
Crystal
Business Name
Tree Hugger
Business url
http://hyenacart.com/TreeHugger
How did you decide on your Business name?
My husband started calling me a Tree Hugger when I started "greening up" our house. He used to joke about it but when it came to naming my store he said it suited me perfectly!
Tell us a little about yourself!
I am a married stay-at-home/work-at-home Mom to 2 kids. Emma is 4 years old and Liam just turned 1. They keep me busy during the day but they go to bed early and the evenings are when I get to relax and do some sewing. I love to sew and truly enjoy making items that are good for the environment and will really make a difference to the people that use them.
Why did you decide to become a WAHM?
When I had first heard of cloth menstrual pads I wasn't sure I could handle washing them and didn't think I was up to the challenge. After hearing more reviews and great things that people had to say about cloth I decided to get a couple to try. They were super easy to care for and 10x more comfortable then disposable if not more! I loved not having to spend money every month on paper products and I loved not having a bag of dirty pads to throw out every month. After the first couple I had bought I had noticed certain things about them that I didn't like. I found for myself that they HAD to have wings to stay in place and wrap around wings bunched for me so smaller wings were a better fit. I also liked luxurious fabrics such as Minkee and Bamboo Velour and I found that PUL felt too hot so I preferred fleece backed. I also hated the serged pads that I had as I found the rough serging rubbed and wasn't very comfortable. From what I had decided I liked best I designed my own pattern and started sewing my own. I wanted a great variety of colors to make every month a little more fun so I had to buy many colors of fabric. Once I was done sewing for myself I decided to use the left over fabric to make extras for friends and family. They were all a huge hit and converted many people so I decided to open my own online store.
What types of items do you sell?
I sell cloth menstrual pads (mama cloth) as well as non-paper towel/wipes/family cloth.
What is your funniest/most embarrassing moment as a WAHM?
I would say my most embararssing moment as a WAHM is when people ask for pics of my personal collection that I use. Yes, people do ask! The pads I use are all my very first attempts and multiple tries at different patterns. The sewing isn't always straight and they really aren't pretty. I very rarely keep nice ones for myself.
What was your favorite thing about working with Christina from JoyfulRose?
Christina is so friendly and she did everything she could to design exactly what I wanted. Communication was excellent and she was so fast!
Is there anything else you'd like your customers to know about you or your business?
I love working at home so I am always here when my kids need me. I also love having a reason to go fabric shopping!
Which item is your favorite to make?
I love making mama cloth!

Note: If you are a WAHM who would like to be featured here please email me with your name, business name, business url, and forum feedback and I'll contact you. Thanks!